"Nobody knows how many rohingya people have died. It could be 50 or even more," recalls Khadiza Begum.
The 50-year-old was among 396 Rohingya Muslims who had tried to reach Malaysia but who finally returned to the Bangladeshi shore after the boat carrying them was stranded at sea for two months.
Her estimate on the number of deaths comes from the funerals her son officiated as an imam, a Muslim preacher, on the same boat.
The human smugglers never delivered them to their longed-for destination.
Khadiza had to run away from her home in Myanmar because of violence that UN investigators described as a "textbook example of ethnic cleansing".
Neighbouring Bangladesh gave her shelter, settling the fleeing Rohingya Muslims in what has now become the world's largest refugee camp.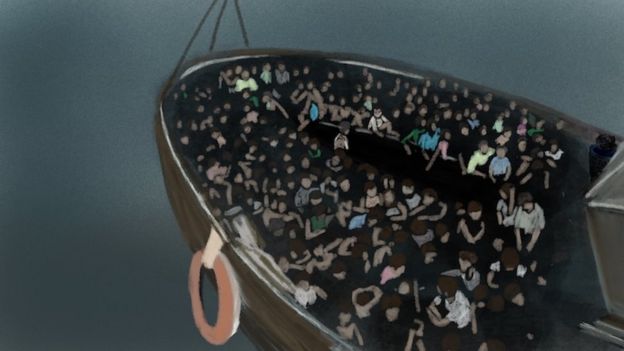 Around one million Rohingya are housed in Cox's Bazar in Bangladesh, and some among them, like Khadiza, hold dreams of a better life in Malaysia, lying across the Bay of Bengal.
But in Khadiza's case, the dream turned into a nightmare.
ALSO READ THIS: THAILAND: LET UN REFUGEE AGENCY SCREEN ROHINGYA
She recounts how the crew – the human traffickers – tried to conceal deaths on their crowded boat.
"They would run both engines so that none could hear the sound of splashing water when bodies were thrown out."
Often, she says, the bodies were disposed of during the night: "I know for sure at least 14 to 15 women died."
The death of a woman who was sitting next to her continues to traumatise Khadiza. Severely dehydrated, the woman was initially disoriented and behaving strangely. The crew took her to the upper deck of the boat, where Khadiza says she died.
"I am still haunted by her death. She died in front of our eyes."
The woman had four children with her. "My son informed the eldest daughter, just 16 years old, that her mother had died."
Staff Reporter
There is heavy rain in Cox bazaar as Sea at Bay of Bengal seems very chaotic and weather forecast department is declaring more rain as there is Signal given to all sea ports of Bangladesh along with the soft signal number THREE to Cox bazaar .
So, life is getting affected by the rain around
as Terrible Muddy, Soggy and Floody Condition Within two days of the rains starting, humanitarian agencies reported some many incidents, including landslides, water logging get common view.
The risks remains huge, given the vast size and nature of the congested, makeshift camps. The hilly terrain is now largely bare of vegetation and the rains have made the soil extremely unstable, increasing the risk of large scale flooding and landslides.
Rohingya Community is now in great threat of getting dangerously affected by Coronavirus Pandemic since there are exactly 21 Covid Positive cases recorded officially till 22 May 2020.
One of our team members confirmed that there are many other people moving around the camp having different types of physical illnesses which may be similar to the symptoms of Coronavirus.
The terrible part is that sometimes a patient may not have any symptom.
There are 3 Rohingyas tested positive today on 21st May 2020, Thursday.The patients  are:
(1)Nur Mohammed-30 years from camp-2 ,Block-G.
(2)Jubair-26 years from camp-2 west , Block-D.3
(3)Somaira-30 years from camp-9, Block.18.
It is a matter of sorrow that everyday Coronavirus positive Rohingya Refugees are found. Now total twenty one affected officially. Unofficially, there may be many. Yesterday, around three hundred patients were in the testing line and their samples are yet to be determined.
It is high time to stay safe and sound.There is a possibility of spreading the virus quickly if perfect steps were not taken.
Thai authorities should allow the United Nations High Commissioner for Refugees (UNHCR) unhindered access to Rohingya from Myanmar to determine whether they qualify for refugee status, Human Rights Watch said today. The government's inhumane policy of holding Rohingya arriving in Thailand in indefinite detention should be immediately repealed.
The latest group of Rohingya arrived in Thailand by land, crossing from Myanmar into Mae Sot district of Tak province on May 20, 2020. Thai authorities arrested at least 12 Rohingya and sent them to the Mae Sot immigration detention facility. Approximately 200 Rohingya are being held in immigration detention and other facilities across Thailand.
"The Thai government should scrap its policy of summarily locking up Rohingya and throwing away the key, condemning them to indefinite detention in cramped and unhygienic detention centers now susceptible to a Covid-19 outbreak," said Brad Adams, Asia director. "The Rohingya have been brutally persecuted in Myanmar. Thailand should permit the UN refugee agency to screen all Rohingya arriving in Thailand to identify and assist those seeking refugee status."
Also Read This: The world's largest refugee settlement is in the crosshairs of a cyclone and a pandemic
Refugee screening is crucial for protecting Rohingya asylum seekers, Human Rights Watch said. The Myanmar government and military have long persecuted the Rohingya, members of a Muslim minority group who have lived in Myanmar's Rakhine State for generations. Hundreds of thousands of Rohingya, who have been effectively denied citizenship in Myanmar, have fled repression and dire poverty. Human trafficking gangs have abused and exploited many of those who eluded death during their dangerous journey.
The situation has significantly worsened since August 2017, when the Myanmar military committed ethnic cleansing and crimes against humanity against the Rohingya, driving as many as 740,000 into exile in refugee camps in Bangladesh.
Responsibility for the security of the Rohingya rests primarily with the Myanmar government, but extends to the countries where they seek refuge, Human Rights Watch said. Like its predecessors, the government of Prime Minister Gen. Prayut Chan-ocha has treated Rohingya arriving at the border as illegal immigrants, subject to detention in squalid immigration lockups. The government has not permitted UNHCR to conduct refugee status determinations for them. Thailand also discriminates against Rohingya by refusing to allow them to register as legally documented migrant workers, unlike other people coming from Myanmar.
The nightmare of what we and the world have feared for months had finally arrived at our doorsteps — and it couldn't have come at a worse time.
The very next day, humanitarian groups used loudspeakers to warn us about Cyclone Amphan, a super-cyclone that was the strongest storm on record in the Bay of Bengal. The groups raised two red flags together in camps, one to signal the detection of the coronavirus in refugee camps and the other to signal the cyclone.
Also Read This: Bangladesh: Cyclone Endangers Rohingya on Silt Island
Wednesday night marked the Night of Decree for Muslims, the night when the Koran was first sent down from heaven to the world. Rohingya refugees in camps were waiting for the night to seek safeguards from Allah. While thousands were preparing for prayers, heavy rain and wind started to strike.
The refugees held their breath in fear and despair. The worst fear was for the lives of more than 300 who had been recently relocated to the Bhasan Char island by the Bangladesh government. We still don't know what happened that night on the floating island. refugee settlement
On Thursday morning, we woke to a number of devastations: landslide, dozens of destroyed shelters, and the flooding. Fortunately, no casualties were reported. Still, the dark and heavy clouds are gathering above us; the sounds of thunder are roaring across the sky.
The Bangladesh government has kept over 300 Rohingya refugees confined on Bhasan Char, a remote silt island in the path of a super cyclone without adequate protections or safety measures, Human Rights Watch said today. Three people were reported killed in Bangladesh soon after the storm struck the coast.
The authorities should take immediate steps to ensure safety and transfer the refugees, including nearly 40 children, to the camps in Cox's Bazar as soon as possible. The United Nations refugee agency and other humanitarian organizations are there, prepared to provide them with critical services and reunite them with their families.
"The Bangladesh government properly brought Rohingya refugees stranded at sea ashore, but holding them on a tiny island during a cyclone is dangerous and inhumane," said Brad Adams, Asia director at Human Rights Watch. "Our fear that Bhasan Char would become a 'floating detention center' has now turned into a fear of a submerged one."
ALSO READ THIS: First coronavirus case found in Bangladesh Rohingya refugee camps
Cyclone Amphan made landfall on the Bangladesh coast on the evening of May 20, 2020, though it shifted course slightly so Bhasan Char is no longer in its direct path. Bangladesh's Land Ministry has previously reported that Bhasan Char could be submerged by a strong cyclone at high tide. About 300 Bangladesh security officials are also on the island.
Bangladesh rescued two boats of Rohingya refugees in early May after Malaysia, Thailand, Myanmar, and Bangladesh authorities pushed them back to sea for two months. While Bangladesh initially stated that the refugees were being temporarily quarantined on Bhasan Char to prevent a Covid-19 outbreak in the camps, Foreign Minister AK Abdul Momen has since said they would "most likely" be held on the island indefinitely.
Human Rights Watch interviewed 25 Rohingya refugees, including both refugees on the island and their family members in Cox's Bazar. They said that those on the island are being confined in prison-like conditions without freedom of movement or adequate access to food, water, or medical care. Some alleged beatings by Bangladesh security forces.
Various Natural Calamities Can Damage the Refugees in the Camps:like Cyclone ""Amphan":
Staff Reporter -JDM

Danger Signal number Six is given to Coxbazar so far but as the cyclone is approaching, it will be updating soon.
There are a lot of problems in the Rohingya Refugees Camps. Still, the most Alarming condition is that people are unaware of the dangers of land slides or hill slides. We have to be very cordial to secure the helpless people.
Flood, Cyclone, Landslides, Heavy Rain, Extremely Hot Weather and Heavy Wind are also the enemies of the Refugees living in the Camps.
Cyclone Amphan may have a devastating affect in Coxbazar if correct measures have not been taken to save the vulnerable people.
The situation is getting worse and Amphan is supposed to affect Chittagong as weather department reports.
Maritime ports of Chittagong, Cox's bazar, Mongla and Payra advised to keep hoisted Danger signal Six.
The severe cyclonic storm "Amphan" over the southeast bay and adjoining southwest bay has moved slightly northwards and intensified into a very severe cyclonic storm over the same area.
According to the latest bulletin of Bangladesh Meteorological Department (BMD), Amphan came closer to Bangladesh coast by Sunday night.
The people staying close to down hill are not safe because there are many incidents where it is proved lethal. Many homeless local people in Coxbazar got buried all of a sudden in recent years.
The ink was barely dry on a statement by Southeast Asian governments pledging to leave "no one behind" in the coronavirus pandemic when reports of hundreds of Rohingya refugees adrift in the Andaman Sea emerged in early April.
But instead of showing solidarity, the countries demurred on sending out search and rescue missions or granting access. When one of the boats approached Malaysia hoping to land, the navy pushed it back—giving the desperate passengers food but refusing to tow them to land. The boats lingered at sea for two months before nearly 400 emaciated refugees were rescued by Bangladesh on April 15. Another boat with almost 300 Rohingyas languished in Bangladeshi waters for weeks before its navy reluctantly rescued them on May 7. Calls by Dhaka for more support from Southeast Asia have fallen on deaf ears. In the meantime, pushed out by the ongoing persecution and violence in Myanmar and hardship in the Bangladeshi camps, the Muslim minority continues to flee by boat.
ALSO READ THIS: First coronavirus case found in Bangladesh Rohingya refugee camps
The Malaysian government points to the coronavirus threat as justification for turning the refugees away. Bangladesh is asking why it should again be its job to come to the Rohingyas' rescue, calling for Western countries to act instead of chastising others. But while people are starving, there is no time for whataboutism. Human rights organizations have called the refusal to help a "death sentence" that might turn the Andaman Sea into a "graveyard."
Such repudiations are not new for the Rohingya or for other victims of human rights violations in Southeast Asia. Among states where human rights abuses are rife, resources often scarce, and the principle of noninterference reigns, governments can count on one another to look the other way when needed.
Aid groups have warned of a looming humanitarian disaster after coronavirus was detected for the first time in the sprawling camps that host about one million Rohingya refugees.
The camps in Cox's Bazar, Bangladesh, which are more densely populated than some of the world's busiest cities, have been under lockdown since 14 March, in an attempt to stop the virus from spreading.
On Thursday, the UN confirmed that an ethnic Rohingya refugee and another person had tested positive for Covid-19. "Both patients are in isolation and contact tracing is underway," the UN's refugee agency said in a statement.
Humanitarian groups fear the virus could race through the camps, where families live with up to 10 people in a room, often with limited access to basics such as soap and clean water. Households are forced to queue to access drinking water and food at communal distribution points, making social distancing impossible.
On top of overcrowding, many refugees, who fled persecution in Myanmar, have underlying health conditions or have not received standard immunizations, according to health experts.
The charity Médicins Sans Frontières warned that before Covid-19, around a third of patients it treated presented with respiratory tract symptoms, such as shortness of breath, meaning they are at higher risk of the disease. Health services for those who get sick are limited.
Health experts and Rohingya community leaders have become increasingly concerned as the number of coronavirus infections have continued to rise in Bangladesh, which has reported 18,863 cases of Covid-19 and 283 deaths.
Dr. Shamim Jahan, Save the Children's health director in Bangladesh, said in a statement the virus already had overwhelmed the country.
More than 670 makeshift dwellings for Rohingya refugees in a camp across Bangladesh's southern district of Cox's Bazar were damaged in a fire on Tuesday morning, according to officials.
"We've been confirmed about the fire incident and are now assessing the extent of damages officially," Bangladesh's Refugee Relief and Repatriation Commissioner (RRRC) Mahbub Alam Talukder told Anadolu Agency.
No casualties were reported so far, he said. "The UNHCR [UN refugee agency] will repair the damaged tents soon."
Speaking to Anadolu Agency, UNHCR communication officer in Bangladesh Louise Donovan said that a total of 312 shelters were destroyed, with 362 more partially damaged, as well as small shops and businesses.
"The UNHCR mobilized emergency response teams and coordinated with our partners," she said, adding that Rohingya refugees themselves had been the first responders. "Thankfully, no loss of life has been reported."
Rahmat Karim, a Rohingya victim whose house was also damaged in the incident, told Anadolu Agency that more than 500 houses had been damaged.
"Above 500 of our houses were fully damaged and some other houses were partially damaged," Karim added.
He said: "Five people of us have been wounded during the rescue works. Two or three people are still missing."
Meanwhile, local media reports said that at least 100 makeshift tents were damaged in a fire at the Kutupalong Rohingya camp in Ukhia Upazila at around 9.00 a.m. local time [0300GMT].