Experts at the first Rohingya-Rakhine online seminar Thursday urged reconciliation of minority Rohingya Muslims and Rakhine Buddhists to restore sustainable peace in Rakhine state in Myanmar.
"Interestingly we are seeing many Rakhine brothers and sisters, and Rakhine media changing their attitude towards us. It gives us an opportunity to start contemplating and aspiring to a Rohingya – Rakhine reconciliation," Ro Nay San Lwin, co-founder of Free Rohingya Coalition said at the conference.
The Forces for Renewal of Southeast Asia (FORSEA) in collaboration with the School of Oriental and African Studies (SOAS) and Free Rohingya Coalition (FRC) organized the "What Future for Rakhine?: End Games for the Arakanese (Rakhine, Rohingyas and Other Co-habitants)" seminar.
Referring to the divide and oppressive policies of the Myanmar government, Lwin said: "Rohingya – Rakhine reconciliation is the opposite of what the Myanmar government wants. They don't want these two communities to get back together."
He accused the Aung San Suu Kyi administration of still holding colonial attitudes toward the oppressed — not only Rohingya but also other ethnic communities.
Also Read This: UK raises pandemic donations for displaced people including Rohingyas
"Since the armed conflict erupted between the Arakan Army and the Myanmar military in late 2018, many thousands in Rakhine have been displaced. Hundreds of innocent civilians have been killed. There has been rape too. Rohingya have also died."
He focused on the long history of violence in Arakan [currently Rakhine] state under the patronization of external powers. "Even before Burma [Myanmar] gained independence from the British, Rohingya and Rakhine were divided by the machinations of foreign powers. However, we have lived peacefully side by side," he said.
"Decades of toxic political thought, speech and action created further divisions between the Rakhine and Rohingya. Most of the politicians from the Rakhine community supported violence against us," said Lwin.
Maung Zarni, co-founder of FRC and FORSEA, said "three successive generations of Burmese generals and politicians have morphed into colonizers with brown faces, violating every pre-independence promise, signed agreement and written foundational Constitution of modern post-British Burma, while extracting rich resources and revenues and grabbing vast agricultural land from majority Burmese farmers and all minority regions – at gunpoint."
The Malaysian authorities must immediately abandon plans to whip at least 20 Rohingya men who are being punished simply for trying to seek safety. The government should release all other jailed Rohingya refugees – including women and children – who have been unlawfully singled out, convicted and imprisoned for alleged "immigration offences," which are contrary to international law, Amnesty International said today.
A Malaysian court has the authority to strike out a caning sentence against the Rohingya men in the coming days. The men, who were allowed to disembark from a boat along with hundreds of other people off the country's coast in April, are part of a group of 31 Rohingya men convicted of so-called "offences" under the Immigration Act 1959/63 in June. All 31 men were sentenced to seven months in prison, with at least 20 of the group sentenced to three strokes of the cane.
The plan to viciously beat Rohingya refugees is not only cruel and inhuman – it's unlawful under international standards
"The plan to viciously beat Rohingya refugees is not only cruel and inhuman – it's unlawful under international standards. To inflict such a violent punishment as judicial caning amounts to torture," said Rachel Chhoa-Howard, Malaysia Researcher at Amnesty International.
"The men who face violent lashings on top of jail terms have already fled persecution and crimes against humanity in Myanmar. They also survived a dangerous journey at sea to Malaysia in search of safety. The inhumanity of this approach is atrocious."
Also Read This: Dhaka looks the other way as rights groups push for Rohingya relocation
Together with the men, nine women were also convicted to seven months jail on similar charges of entering and staying in Malaysia without a valid work permit. Fourteen children have been charged, and are also facing jail terms. Malaysia's Immigration Act imposes six strokes of the cane, fines and up to five years' imprisonment for people who are deemed to be in Malaysia irregularly. Amnesty International understands that the hundreds of others who disembarked from the boat in question are currently being held in immigration detention.
Entering or staying in a country irregularly – in other words, without the government's permission – should never be considered criminal offences. Under international human rights law, the criminalization of irregular migration exceeds the legitimate interests of states in regulating migration to their territories. Furthermore, every person – regardless of their migration status – has the right to liberty, and no one shall be subjected to arbitrary arrest or detention. In any case, children should never be detained for immigration reasons under any circumstances, as it is never in their best interests.
The Rohingya are among the world's most persecuted ethnic minorities — haunted by the past and denied a future.
As the coronavirus pandemic sweeps across the world and into their squalid refugee camps, they're confronted by another grim prospect: separation from loved ones."There's Covid-19, it's quite clearly spreading in the camps. But the Rohingya will not go to get tested," said Phil Robertson, deputy director of Asia at Human Rights Watch.
"They are afraid of being taken from their family, they are afraid of being isolated, they're afraid of being taken to this horrible detention island called Bhasan Char — which is in the middle of nowhere… It's like a Rohingya Alcatraz," he said, referring to the former island prison in San Francisco.
The Rohingya are a Muslim minority from Rakhine state in western Myanmar — formerly known as Burma. Most fled their homes after the military launched a brutal crackdown in August 2017.
Today, nearly a million Rohingya refugees live in cramped, temporary housing in the Bangladesh district of Cox's Bazar, home to one of the world's largest settlement camps.
The United Nations High Commissioner for Refugees told CNBC there were 50 confirmed cases of Covid-19 and 5 deaths among the refugees in Cox's Bazar as of July 1. Testing was ramped up to 700 a day, and about 0.06% of the 860,000 Rohingya in the camps have been tested. Additionally, Myanmar's health ministry reported 10 confirmed cases in Rakhine, UNHCR said.
It's hard to know the true extent of the outbreak among the Rohingya, argued Robertson.
"People are refusing to go. I think the only people you're really seeing that turn up and get tested are the people who are gravely ill, and have no other choice … they need to get treatment or they may die."
"We have noticed a decline in the number of refugees approaching health facilities for COVID-19 symptoms in the last weeks," said Louise Donovan, a communications officer at UNHCR. She said there appears to be "fear and anxiety among refugees," as those who volunteered to be tested had to be isolated for precautionary reasons.
Additionally, an internet shutdown in camps in Bangladesh and some towns in Rakhine "has meant that people in some villages are unaware of the Covid-19 outbreak," Human Rights Watch said.
"Two more Rohingya die from corona: Locals in panic" — screamed a recent newspaper headline in southeastern Bangladesh's Cox's Bazar.
Social media has sometimes been equally hysterical. One college teacher posted on Facebook that lack of awareness about COVID-19 among Rohingya refugees from Myanmar "will lead to our collapse."
In August 2017, more than 740,000 mostly Muslim Rohingya fled a brutal military crackdown in northwestern Myanmar's Rakhine state and entered Bangladesh as refugees. The United Nations described it as a "textbook example of ethnic cleansing." Bangladesh already had 200,000 refugees from earlier Rohingya exoduses that began in the 1970s.
The novel coronavirus pandemic has exacerbated resentment in the densely populated country toward the refugees, and also brought further uncertainty to their chances of repatriation.
Also Read This: Rohingya children face even higher levels of violence and safety risks as COVID-19 crisis deepens
The Rohingya have meanwhile been exasperated at the lack of consultation by Myanmar, Bangladesh and the UNHCR. Refugee leaders feel their views were sidelined in any discussions as early as November 2017 when repatriation was first addressed.
Abdul Mozid, a rural physician, runs a drug store near Kutupalong camp, a sprawling settlement made of bamboo and plastic sheets that is home to over 500,000 refugees. "Camps are like slums," he told the Nikkei Asian Review. "People are scared that this will spread the coronavirus."
In the 34 densely packed camps, social distancing simply cannot be observed, points out Yassin Abdumonab, a young Rohingya researcher and poet living in Kutupalong.
But some officials are bullish. Mahbub Alam Talukder, Bangladesh's commissioner for refugee relief and repatriation, credits the efforts of officials and aid groups, as well as restrictions on movement, in keeping the numbers of confirmed cases and fatalities low in the refugee camps.
As of July 4, five Rohingya had died of COVID-19 — about one-seventh of deaths in surrounding communities. The number of confirmed cases outside exceeded 2,700 compared to just 52 in the camps.
There are so many legitimate reasons to hate Facebook. It not only encourages polarisation and radicalisation, the company has also engineered the platform to "exploit the human brain's attraction to divisiveness", which helps rake in billions of dollars in profit from nefarious political entrepreneurs, grifters and manipulators who peddle hate and sow division.
Facebook has undermined democracy and social cohesion by becoming a "hotbed of right-wing extremism", with the lion's share of fake news stories and disinformation campaigns targeted at those who either express conservative political sympathies or are identified as potentially persuadable to conservative political messaging. The way in which these users were targeted for manipulation by Cambridge Analytica helped Donald Trump win the presidency and arguably severed the UK from its European allies.
Trump's 2016 digital campaign manager Brad Pascale admitted as much when he boasted: "These social platforms are all invented by very liberal people on the west and east coasts, but we figured out how to use it to push conservative values. I don't think they though that would ever happen."
Also Read This: Rohingya say dozens perished in months-long voyage to Malaysia
But Facebook's CEO Mark Zuckerberg remains hostile to implementing any measure that remedies what has become a torrential stream of dangerous misinformation and disinformation on the site he created – even when it is proven that these falsehoods are contributing to a spike in white domestic terrorism in the Global North and genocide in the Global South.
Well, 'if the mountain won't come to Muhammad, then Muhammad must go to the mountain' reads the Turkish proverb and reportedly the guiding principle for lawyers acting on behalf of the African nation The Gambia, which has filed a lawsuit in the US District Court for the District of Colombia that calls on Facebook to release "all documents and communications produced, drafted, posted or published on the Facebook page" by Myanmar military officials and security forces, so that it can evaluate what role these individuals played in the mass murder and rape of the country's Muslim minority – the Rohingya.
Educo and Childfund Korea have launched a coronavirus emergency response in Cox's Bazar, Bangladesh, to help protect children in refugee camps and host communities hard hit by the lockdown and school closures.
(Cox's Bazar, June 22) Child rights organization Educo says children living in the world's largest refugee camp now face heightened risk of various forms of violence including child trafficking, child labour and child marriage amid worsening socioeconomic conditions brought about by the pandemic.
Matiur Rahaman, Cox's Bazar emergency response Head of Mission for Eu says:
"We need to understand that Rohingya children in the refugee community were already facing various forms of violence and safety risks due to the desperate living conditions in the camps. It is appalling that the pandemic has created an even bigger crisis within an existing crisis for Rohingya children."
Also Read This: Bangladesh: Rohingya plea for refugee camp cemeteries
Rahaman adds: "Rohingya children are now cut off from the outside world as schools are still shut down, and many of them do not have access to learning alternatives. We know from experience that children are likely to suffer violence in their homes and communities as families face extremely uncertain times. It is difficult to imagine this level of isolation for children who are already living in remote camps."
Mosharoffa, 12, a refugee living in Cox's Bazar shares how the new coronavirus is changing the way they live: "Because of the coronavirus, there is no peace in the block, only fear, I can't go out anywhere, the market is closed, so there is no fish curry, so I can't eat any good food even if I want to. I am afraid that if I go to the doctor, I might be infected by a person with coronavirus."
Over 1,500 coronavirus cases have been reported amongst Cox's Bazar host population, which is also considered one of the poorest areas in Bangladesh. In the refugee camps, at least 38 people have already been infected by the coronavirus. Educo says that this is a conservative figures, highlighting that the cases could be much higher. The organization added that accurate information about the illness and measures to prevent its spread is failing to reach many people in the camps.
A Rohingya rights group has asked the Bangladeshi refugee commissioner's office to allocate a plot of land for members of the minority group to bury the bodies of deceased Rohingya refugee.
The official application, submitted on June 14 by the Arakan Rohingya Society for Peace and Human Rights (ARSPH) lamented that after two years encamped near the country's southeastern town of Cox's Bazar, the refugees had nearly run out of cemetery space.
"The local people are worrying for their people to get enough spaces in the cemetery for the future. So they are not allowing the refugees to bury continuously in their cemetery," said the application reached by Anadolu Agency.
The Rohingya, described by the UN as the world's most persecuted people, have faced heightened fears of attack in Bangladesh's neighboring Myanmar since dozens were killed there in communal violence in 2012.
According to Amnesty International, more than 750,000 Rohingya refugees, mostly women and children, fled into Bangladesh after Myanmar forces launched a brutal crackdown in August 2017.
Also Read This: Rohingya say dozens perished in months-long voyage to Malaysia
No land has officially been set aside for Rohingya burials at the crowded camps, leaders of the group said.
Small areas have been unofficially fixed as cemeteries in most Rohingya camps, with reports that some have had to bury more than one body in a single grave.
With a single grave, in conventional cemeteries costing at least 3,000-15,000 Bangladeshi takas ($35-$176), the already destitute refugees have been hard-pressed in procuring a spot to lay their dead to rest.
Having expressed their gratitude for the hospitality of their hosts, the group nonetheless bemoaned the hardship that this caused the refugees.
"It is right from their part keeping the spaces for their own villagers. But it is the most difficult and big burden for the Rohingya refugees," it said, urging authorities to allocate a specific graveyard for all 32 Rohingya camps to "urgently" resolve the issue.
Rohingya leaders have urged Bangladesh to lift an internet ban imposed on a million refugees in the city of Cox's Bazar, warning that rumours and panic over Covid-19 is deterring people from getting tested.
Limits on communication are exacerbating already dire conditions for the Rohingya refugees from Myanmar, who live in cramped bamboo huts with as many as eight family members to a room, and are dependent on communal taps and toilets. In some areas, basics such as soap are lacking.
Aid agencies in the city in south-east Bangladesh, 20 miles from the border with Myanmar, have warned repeatedly that the virus could thrive in the camps and that medical facilities would be unable to cope. As of 10 June, 35 refugees have tested positive for Covid-19, according to the World Health Organization, while three have died. In total, 30 are in quarantine, though it is feared that there are more undetected cases.
ALSO READ THIS: LAWYERS SEEK FACEBOOK POSTS OF MYANMAR LEADERS IN ROHINGYA CASE
The outbreak has coincided with flu season, adding to confusion over symptoms, but community members say that people are avoiding going to clinics because they are worried about being moved to isolation facilities.
Last week, two people fled quarantine because they believed they would be sent to centres far from their families, according to reports.
Many of the Rohingya refugees sheltering in Cox's Bazar fled to Bangladesh in 2017, following a military crackdown in Myanmar on its minority Muslim population, which the UN has since said was carried out with "genocidal intent". After three years in the camps, with people unable to access education or build livelihoods, conditions have become increasingly desperate. Since the start of the year, many have attempted to flee Cox's Bazar by embarking on dangerous boat journeys to Malaysia, 1,000 miles away. They have then been left stranded at sea for months as countries respond to the coronavirus pandemic by tightening their borders.
"Nobody knows how many rohingya people have died. It could be 50 or even more," recalls Khadiza Begum.
The 50-year-old was among 396 Rohingya Muslims who had tried to reach Malaysia but who finally returned to the Bangladeshi shore after the boat carrying them was stranded at sea for two months.
Her estimate on the number of deaths comes from the funerals her son officiated as an imam, a Muslim preacher, on the same boat.
The human smugglers never delivered them to their longed-for destination.
Khadiza had to run away from her home in Myanmar because of violence that UN investigators described as a "textbook example of ethnic cleansing".
Neighbouring Bangladesh gave her shelter, settling the fleeing Rohingya Muslims in what has now become the world's largest refugee camp.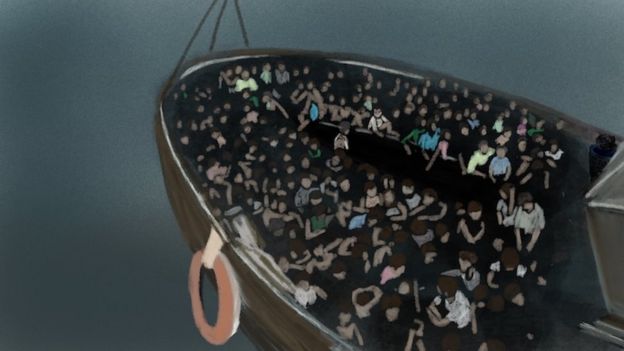 Around one million Rohingya are housed in Cox's Bazar in Bangladesh, and some among them, like Khadiza, hold dreams of a better life in Malaysia, lying across the Bay of Bengal.
But in Khadiza's case, the dream turned into a nightmare.
ALSO READ THIS: THAILAND: LET UN REFUGEE AGENCY SCREEN ROHINGYA
She recounts how the crew – the human traffickers – tried to conceal deaths on their crowded boat.
"They would run both engines so that none could hear the sound of splashing water when bodies were thrown out."
Often, she says, the bodies were disposed of during the night: "I know for sure at least 14 to 15 women died."
The death of a woman who was sitting next to her continues to traumatise Khadiza. Severely dehydrated, the woman was initially disoriented and behaving strangely. The crew took her to the upper deck of the boat, where Khadiza says she died.
"I am still haunted by her death. She died in front of our eyes."
The woman had four children with her. "My son informed the eldest daughter, just 16 years old, that her mother had died."
More than 670 makeshift dwellings for Rohingya refugees in a camp across Bangladesh's southern district of Cox's Bazar were damaged in a fire on Tuesday morning, according to officials.
"We've been confirmed about the fire incident and are now assessing the extent of damages officially," Bangladesh's Refugee Relief and Repatriation Commissioner (RRRC) Mahbub Alam Talukder told Anadolu Agency.
No casualties were reported so far, he said. "The UNHCR [UN refugee agency] will repair the damaged tents soon."
Speaking to Anadolu Agency, UNHCR communication officer in Bangladesh Louise Donovan said that a total of 312 shelters were destroyed, with 362 more partially damaged, as well as small shops and businesses.
"The UNHCR mobilized emergency response teams and coordinated with our partners," she said, adding that Rohingya refugees themselves had been the first responders. "Thankfully, no loss of life has been reported."
Rahmat Karim, a Rohingya victim whose house was also damaged in the incident, told Anadolu Agency that more than 500 houses had been damaged.
"Above 500 of our houses were fully damaged and some other houses were partially damaged," Karim added.
He said: "Five people of us have been wounded during the rescue works. Two or three people are still missing."
Meanwhile, local media reports said that at least 100 makeshift tents were damaged in a fire at the Kutupalong Rohingya camp in Ukhia Upazila at around 9.00 a.m. local time [0300GMT].